GOLDEN BAY
PLUMBING & GAS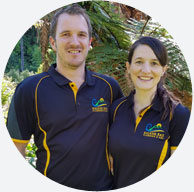 Welcome! We're Barry and Amy Graham, owners and operators of Golden Bay Plumbing & Gas.
Barry is a certifying plumber, gasfitter and drainlayer based in Pōhara.
We provide a top quality service to all of Golden Bay/Mohua.
WHY CHOOSE GOLDEN BAY PLUMBING & GAS?
Professional, friendly and efficient service.
Reliable and quality workmanship.
Over ten years' experience in all areas of plumbing, gasfitting and drainlaying.
Locally owned and operated in Golden Bay/Mohua.
Competitive market rates.
We care about doing the best job possible for you.
Sound like what you need?  Contact us today to discuss your plumbing, gas or drainage requirements.
"The water pump in our caravan gave up the ghost while camping at Pohara Top 10 over the Xmas-New Year holiday 2022.  Golden Bay Plumbing & Gas was the only company that responded to my call for help with installing a new pump.  Barry knows his stuff and very efficient.  He told us useful information that we didn't know about the pump, being gas as well as electric operated.  He is very personable and completed the job in no time at all.  I highly recommend him and if we were to live in Takaka, GOLDEN BAY PLUMBING & GAS would be our preferred company, no doubt about that!
Amy, the phone message was also very welcoming and with clear instructions.  The only one with mobile number that we could send a txt message to as well.
Amy and Barry, you're a great team!"