About
Golden Bay Plumbing & Gas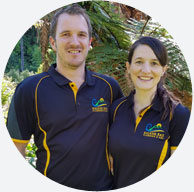 Barry and Amy Graham
Owners / Operators
We moved to beautiful Golden Bay in October 2018 and are so lucky to now call it our home.  We live in Poharadise with our toddler daughter and baby son.
Barry is a certifying plumber, gasfitter and drainlayer.  He has ten years' experience in all areas of plumbing, gasfitting and drainlaying in New Zealand and overseas.  Before we moved to Golden Bay he owned and operated Coastline Plumbing, Gasfitting & Drainlaying in Palmerston North.
Amy is taking time out from her profession to run the business with Barry and raise their family.
We look forward to meeting and being of service to you.
"Just like to say that we have found your services in plumbing and gas fitting of our camper van has been superb.
The job was done quickly, cleanly with a very tidy finish to all the work.
You provided solutions to some problems that we were worried about seemingly effortlessly.
You sorted out the certification of the self-containment, and the gas fitting, all with no fuss and to our brief.
I would highly recommend your services.
Many thanks."