About
Golden Bay Plumbing & Gas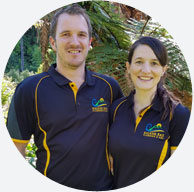 Barry and Amy Graham
Owners / Operators
We moved to beautiful Golden Bay/Mohua in October 2018 and are so lucky to now call it our home.  We live in Pōhara with our three young children.
Barry is a certifying plumber, gasfitter and drainlayer.  He has over ten years' experience in all areas of plumbing, gasfitting and drainlaying in New Zealand and overseas.  Before we moved to Golden Bay/Mohua he owned and operated his own plumbing, gasfitting and drainlaying business in Palmerston North.
Amy is taking time out from her profession to run the business with Barry and raise their family.
We look forward to meeting and being of service to you.
"We had trouble with our aerator septic tank which was installed and maintained by a company for over 4 years with this tank breaking down and no help from the septic tank providers.  We had had enough, so decided to look for a local plumber to help us.  We met Barry for initial meeting and from there he helped us come up with a solution of how to solve the septic issue and from here we haven't looked back no blocked systems and we are all go.  Barry has always been there when we have asked him and always very friendly and happy to help.  We are definitely going to miss him up here in the North so you are very lucky South Islanders, you have got yourselves one fantastic plumber."